Neste and Statkraft continue their green partnership
Statkraft has been supplying renewable energy to Neste in Finland since 2022. In a recent article, Neste summarised how the power purchase agreement with Statkraft supports the company on their sustainability journey.
In 2021, Statkraft and the industrial company Neste signed a 10-year power purchase agreement that enables the Finnish company to reduce its greenhouse gas emissions with electricity from a Finnish wind farm that was under construction at the time.
The Mastokangas wind farm, located in the Finnish municipalities of Raahe and Siikajoki, has been operational since 2022 and provides renewable energy for Neste's refinery in Porvoo, Finland. Neste took the occasion of the end of 2022 to look back on its partnership with Statkraft and explain how it is supporting the company on its journey to reduce the carbon footprint of its production and eventually become carbon neutral.

Porvoo, Finland
Image: Neste
Neste's refinery in Porvoo, Finland
Read more in Neste's "Journey to Zero Stories"
Statkraft and Ilmatar play significant roles in Neste refinery's transition to 100% renewable energy
Journey to Zero Stories
As a leading PPA provider, Statkraft brings together electricity producers and companies from trade and industry across Europe and develops new innovative concepts. In Finland, Statkraft offers PPAs to industrial and commercial companies as well as to project developers and investors enabling the financing of new renewable power plants. As one of the most important actors in the European energy market, Statkraft trades energy and renewable energy certificates in Finland.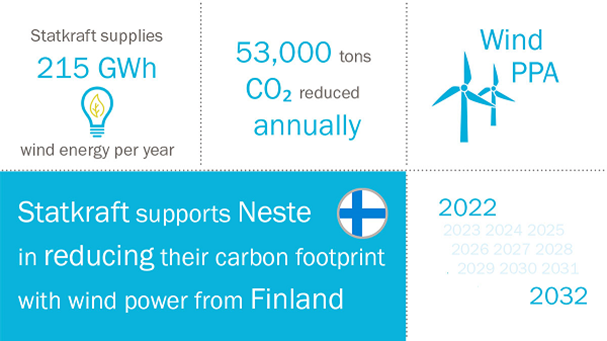 Contact us
Fredrik Åkerlund
Senior Originator Finland